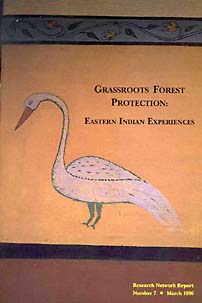 ASIA FOREST NETWORK
The Asia Sustainable Forest Management Network supports the role of communities in protection and sustainable use of the region's natural forests. The Network comprises a small, select coalition of Asian planners, foresters, and scientists from government agencies, universities, and non-government organizations, many of whom have collaborated for years. The solidarity of the Network members is based on a common commitment to exploring alternative management strategies for Asia's disturbed natural forest lands. The emphasis of the Network's research includes the ecology of natural regeneration, the economics of non-timber forest product systems, and the community organizations and institutional arrangements which support participatory management. The lessons stemming from the research aim to inform field implementation procedures, reorient training, and guide policy reform.
For more information about the Network and its publications, please contact Dr. Mark Poffenberger at the following address:
Center for Southeast Asia Studies
University of California
2223 Fulton Street #617
Berkeley, CA 94720 USA
Tel: 510-642-3609
Fax: 510-643-7062
©1996
Front Cover Photograph: Santhal house paintings, like this swan from Kudada, South Bihar, exhibit both fine technique and an enduring sensitivity and appreciation of nature (Poffenberger).
Back Cover Photograph: Tribal homes are often attractively painted with natural colors (Poffenberger).
---
GRASSROOTS FOREST PROTECTION:
EASTERN INDIAN EXPERIENCES
by
Mark Poffenberger
with
Prodyut Bhattacharya
Arvind Khare
Ajay Rai
S. B. Roy
Neera Singh
Kundan Singh

Research Network Report
Number 7 -- March 1996
PART 1 INTRODUCTION
PART 2 DEVOLVING FOREST CONTROL IN EASTERN INDIA
Community Forest Protection in Bihar
The Case of the Kudada Hills: Emerging FPC Apex

Organizations

Summary
The Evolution of Joint Forest Management in West Bengal
The Case of Chandri Beat: Forest Patch and

Hamlet Clusters

Summary
Community Forest Management in Orissa
Forest Protection in Sarangi Range

The Case of Kaimati: A Small Village Forest

The Case of Rupabalia: A Medium Forest

The Case of Kapilas: A Large Forest

Summary
PART 3 EMERGING LEARNING
Lessons for Communities
Lessons for JFM Policies and Programs

Lessons for Forest Departments

Lessons for Non-Government Organizations

Lessons for Donor Agencies

Lessons for Others
NOTES
FIGURES, TABLES, AND BOXES
Figures
1. Estimated distribution of India's forest protection committees

2. Map of eastern India study areas

3. Map of Kudada hill forests and neighboring villages

4. Map of Chandri beat

5. Map of Sarangi range

6. Map of Kaimati village and forest patches

7. Map of Rupabalia Forest and neighboring communities

8. Map of Kapilas Forest with Sorsiapada and Bania enclave villages

9. Joint forest management transition processes
Tables
1. Percentage of total state forest under community management for districts in southwest Bengal

2. Percentage of Orissa forest under community management
Boxes
1. Characteristics of indigenous forest protection groups

2. Needs of JFM support programs

3. Kudada hills time line

4. Chandri beat time line

5. Kaimati forest time line

6. Rupabalia forest time line
In recent years news of community forest protection in India has attracted worldwide attention. Yet, due to the paucity of field data, the significance of India's experiences is poorly understood. Many outsiders believe village-based forest protection is driven by conventional donor projects, as were the larger national social forestry schemes of the 1970s and 1980s. Others have assumed that community forestry is limited to a handful of "show case" examples, heavily subsidized, both professionally and financially, by donors and non-government organizations (NGOs). Finally, some feel community forestry is simply a new development fad, likely to be replaced in a few years by the next trend.
To better understand India's changing public lands policies and field developments, the Asia Forest Network has worked with many state forest departments, researchers, and NGOs to document the evolution of community forest protection groups. Through oral histories and field investigations, India's research team is reconstructing the emergence and spread of eastern India's expanding community forest protection movement. In the following pages, stories of villagers from Orissa, West Bengal, and Bihar are recounted as they take over management responsibilities for hundreds of thousands of hectares of public land.
The case studies document patterns of forest protection committee formation, spread, and consolidation. While management strategies and issues vary, the studies show a large and growing number of communities are attempting to take control of degrading public forestlands in an effort to conserve resources and ensure ecological functions. These reports also indicate that community forest protection is an expanding rural social movement in eastern India. While informal management groups adopt a myriad of institutional configurations, they are consistently rooted in concerns over environmental degradation. This grassroots movement appears to have antecedents in the late nineteenth century, with its most recent manifestation originating in the 1970s. Since the late 1980s, forest departments have begun to recognize the rights and responsibilities of local forest managers under the banner of joint forest management, enacting supportive national and state resolutions.
The issuance of supportive policies by central and state governments in the early 1990s seems to have accelerated the spread of community forest protection in the three Indian states studied. Community forest protection in the three Indian states studied. Community initiatives are also reported to be gaining ground in Gujarat, Rajasthan, Andra Pradesh, Madhya Pradesh, and Tripura. While government and NGO support is and will likely be a facilitator, this report suggest that grassroots forest protection reflects a historic shift away from bureaucratic resource management to a gradual devolution of rights back to communities, a process that will likely persist well into the twenty-first century. This report concludes by drawing lessons from the state programs and case histories regarding the challenges and opportunities faced by community institutions, forest departments, donors, NGOs, and other nations as they begin to transfer power over public lands to establish collaborative systems of management.
Mark Poffenberger
The research team would like to begin by expressing its gratitude to the communities that participated in working to reconstruct the history of forest protection in their neighborhoods. Many of our village colleagues spent hours with team members identifying critical events, motives, and strategies that occurred as they recounted the unfolding transition of forest use and management. Without their collaboration, the documentation of their stories would not have been possible. We admire their efforts and are most grateful for their willingness to share their learning with us and our readers.
We are also very thankful for the help the research team received from many foresters and their institutions. Forestry field staff provided extensive help, from guards to divisional forest officers. We are particularly grateful to Mr. B. Reddy, Mr. A. Jha, Mr. S. K. Chadha, Mr. S.K. Pande, and their field staff. From the outset the project received the support and encouragement of the Inspector General of Forests, Mr. M.F. Ahmed, and of the Secretaries at the Ministry of Environment and Forests. We also give our sincere gratitude to the Principal Chief Conservators of the West Bengal, Orissa, and Bihar Forest Departments, and to their senior staff.
This study was made possible through the cooperative efforts of many Indian non-government organizations and the Asia Forest Network. The Society for the Promotion of Wastelands Development, Vasundara, the Institute for Biosocial Research and Development, Cenderet-Xavier Institute, PIPAR, the Indian Institute of Forest Managements, and the Worldwide Fund for Nature-India all contributed to this effort. Particular thanks are due to Mr. G. Raju, Dr. Kamla Chowdhury, Mr. Syed Rizvi, Mr. Samar Singh, Mr. Samarendra Satapathy, and Mr. Michael Bogaert, We are grateful to Cynthia Josayma, Tom Poffenberger, Nancy Podger, and Angana Chatterji for helpful suggestions in developing the monograph.
Finally, the research team would like to thank the donor agencies that Supported this research and this publication. USAID's Asia Bureau, the NRMP-II Project, and the USDA Forest Service-International Forestry Office provided critical support for the Asia Forest Network's participation in the research. The Wallace Global Funds has been instrumental in sustaining the Indian field research throughout the project to spread learning emerging in rural communities. We are most grateful for the trust and support we have received from Bob Wallace, Charlotte Fox, Molly Kux, Greorge Taylor, Mike Benge, Alex Moad, and many others.
Thanks are also due to the Asia Forest Network's host institutions, the East-West Center, and the Center for Southeast Asia Studies at the University of California at Berkeley. Finally, we would like to thank those who have helped bring this publication to press, including Helen Takeuchi's excellent editing of the text and Mark Ontiveros's fine maps.