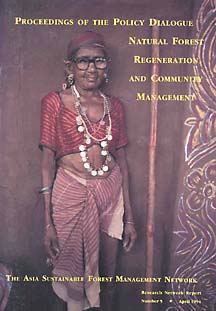 The Southeast Asia Sustainable Forest Management Network
The Asia Sustainable Forest Management Network supports the role of communities in protection and sustainable use of the region's natural forests. The Network comprises a small, select coalition of Asian planners, foresters, and scientists from government agencies, universities, and non-government organizations, many of whom have collaborated for years. The solidarity of the Network members is based on a common commitment to exploring alternative management strategies for Asia's disturbed natural forest lands. The emphasis of the Network's research includes the ecology of natural regeneration, the economics of non-timber forest product systems, and the community organizations and institutional arrangements which support participatory management. The lessons stemming from the research aim to inform field implementation procedures, reorient training, and guide policy reform.
For more information about the Network and its publications, please contact Dr. Mark Poffenberger and Betsy McGean or Cynthia Josayma at the address below.
Program on Environment
East-West Center
1777 East-West Road
Honolulu, Hawaii 96848 USA
Tel: 808-944-7231
Fax: 808-944-7298
THE POLICY DIALOGUE ON NATURAL REGENERATION AND COMMUNITY FOREST MANAGEMENT AND THIS PROCEEDINGS WERE SUPPORTED BY THE BIODIVERSITY SUPPORT PROGRAM, A USAID ASIA BUREAU-FUNDED JOINT VENTURE OF WORLD WILDLIFE FUND, THE NATURE CONSERVANCY, AND THE WORLD RESOURCES INSTITUTE. THESE ACTIVITIES ALSO RECEIVED SUPPORT FROM THE ROCKEFELLER FOUNDATION, THE USDA FOREST SERVICE'S INTERNATIONAL FORESTRY PROGRAM, AND USAID'S NATURAL RESOURCE MANAGEMENT PROGRAM.
©1994
Front cover: A Vasava tribal grandmother stands proudly baside the tenggapali staff, the symbol of community forest protection in Gamtalo village, southern Gujarat, India. The staff is circulated from household to household; whoever possesses the staff takes responsibility for patrolling the forest and ensuring that it is protected from cutting, grazing, and fires.
Back cover: The majestic honey tree (pohon putih -- Koompassia excelsa) is sacred to Dayak peoples of East Kalimantan, Indonesia. Its branches are pruned to provide ideal homes for bee hives. A single tree may possess up to 50 hives, each of which yields 2-3 liters of honey per year.
---
POLICY DIALOGUE ON
NATURAL FOREST REGENERATION
AND COMMUNITY MANAGEMENT
Workshop Proceedings
Held 2-4 March 1994
East-West Center, Honolulu, Hawaii
Summary by
Mark Poffenberger
Visiting Fellow, Program on Environment
and
Betsy McGean
Network Consultant
Research Network Report
Number 5, April 1994
EAST-WEST CENTER
---
We have been living in the forest for so long, our heart tells us that this is our land and we must stand up for it. If they continue to extract logs and timber from our forest, our lives wither like leaves on the trees like fish without water
-- Chief Along Sega, Penan tribal leader,
Uma Bawang, Sarawak, East Malaysia
We are people of the jungle. when we hunt, our bed is made of leaves, our shelter is our cape, our food is the fruit of the forest. We are happy if we have money just as happy if we don't
-- Mani Lal, Gurung tribal honey hunter, Nepal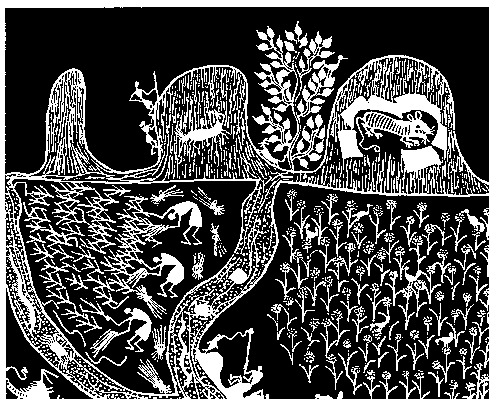 The environmental world view of the Worli tribe, Western Ghats, India, as shown on a wall painting depicting forest spirits, hunting, and harvesting activities.
| | |
| --- | --- |
| List of Figures | iv |
| | v |
| | vii |
| | xi |
| Part I Review of Current Conditions | |
| | 1 |
| | 3 |
| | 5 |
| | 7 |
| Philippines | 7 |
| Indonesia | 7 |
| Thailand | 8 |
| India | 8 |
| | 10 |
| | 21 |
| | |
| Part II Strategic Action Plans | |
| | 27 |
| Philippines | 29 |
| Indonesia | 33 |
| Thailand | 37 |
| India | 39 |
| | 44 |
| Vietnam | 44 |
| China | 45 |
| Nepal | 48 |
| | 49 |
| | 52 |
| Notes | 54 |
| | 55 |
| | 56 |
FIGURES
| | | |
| --- | --- | --- |
| 1. | Asia Sustainable Forest Management Network | ix |
| 2. | Phases of forest degradation and regeneration strategies for sal forests, eastern India | 14 |
| 3. | Benuaq Dayak phases of forest regeneration | 19 |
| 4. | Research areas of Asia Sustainable Forest Management Network | 28 |
| 5. | Accelerated community forest management sites in the Philippines | 31 |
| 6. | Research areas in East Kalimantan, Indonesia | 35 |
| 7. | Research areas in North Thailand | 40 |
| 8. | High-potential areas for joint forest management in India | 42 |
The country teams thank the communities in the forest and on its fringes who have helped all of us better understand more ecological and equitable approaches to forest management. The seminar organizers and Network members are grateful to the numerous donor agencies providing support to the Asia Sustainable Forest Management Network in the past and present. Special thanks to John O'Toole of the Rockefeller Foundation for providing the Network with its initial grant to work in Southeast Asia, and to Jeffrey Campbell of the Ford Foundation for funding Network support activities in India. We also acknowledge the assistance of the USAID- supported Biodiversity Support Project (BSP), a collaborative program of the World Wildlife Fund, The Nature Conservancy, and The World Resources Institute. We particularly appreciate the professional support of USAID's Molly Kux, George Taylor, and Pam Muick, and of BSP's Janis Alcorn, Kathy Satterson, Steve Kelleher, and Rich Richina. More recent encouragement and support has come from the USDA-Forest Service International Forestry Office and from USAID's NRM-II Project, and we extend our gratitude to Jeff Sirmon, Alex Moad, Linda Lind, and Mike Benge for their dedication to ensuring the momentum of the Network's activities this year. We are also most grateful to Kuswata Kartawinata and Michael Jenkins at the John D. and Catherine T. MacArthur Foundation for their interest, guidance, and financial support to the Network.

We thank our colleagues and friends at the World Resources Institute, particularly Owen Lynch, Chip Barber, and Kirk Talbott for helping in the design and facilitation of the meeting. Roger Stone of the Sustainable Development Institute in Washington, D.C., Grady Timmons of the East-West Center's Office of Public Programs, and Craig De Silva of Hawaii Public Radio have all contributed significantly to the Network's expanding efforts to share our learning with the wider public.

We gratefully acknowledge Bob Reed and Eric Crystal for their cooperation in housing the Network Secretariat at the Center for Southeast Asia Studies at the University of California, Berkeley, from 1991 through 1993. We finally wish to extend our sincere thanks to the many individuals at the East-West Center who organized, hosted, and helped support the Policy Dialogue. We especially appreciate the encouragement of East-West Center President Michel Oksenberg and Program on Environment Director A. Terry Rambo. We thank our colleague and friend Jefferson Fox for working closely with us to plan the meeting, and our many other East-West Center friends who made the meeting possible, including June Kuramoto, Karen Yamamoto, Margaret White, Tammy Castleforte, Deanna Donovan, and Cynthia Josayma. Special mention for the preparation of the proceedings goes to Daniel Bauer for editing and layout, Helen Takeuchi for proof-reading, Nancy Podger for developing the maps, and Laurel Lynn Indalecio for the graphics. Lastly, we thank Tom and Shirley Poffenberger, Network members emeritus, for their hard work and enthusiasm behind the scenes.

The epigraphs on page ii are from the following: Andre Carothers, "Defenders of the Forest," Greenpeace, July/August 1990 (Malaysia); and Eric Valli and Diane Summers, 'Honey Hunters of Nepal," National Geographic, November 1988 (Nepal).

In the early 1980s, Ford Foundation program officers began facilitating exchanges between small groups of Asian foresters, social scientists, non-government organization (NGO) staff, and donors to accelerate learning concerning community forest management. Small workshops and cross-visits were organized to share ideas regarding problems and solutions to forest degradation. Gradually, working groups began forming in selected countries, often documenting indigenous forest management systems and developing and monitoring small pilot projects. As working group members gained experience in designing experimental programs and communicating with national planners, field-level learning began influencing national forest management strategies in some nations. New ideas began to be discussed regarding mechanisms to legally empower communities as custodians of public forest territory.

An informal meeting of representatives from a number of Southeast Asian working groups was held in Pattaya, Thailand, in 1987; however, it was not until late January 1992 that the first formal meeting of the Asia Sustainable Forest Management Network was held in Bangkok. With funding from the Rockefeller and Ford Foundations, national working group teams received small grants to initiate studies documenting patterns of forest regeneration under community protection. At the time, land satellite data from eastern India was indicating hundreds of thousands of hectares of once-degraded forests were regenerating rapidly under community management. During the Bangkok meeting, study designs were developed, often utilizing participatory rapid appraisal methods to examine the effects of community forest management in other parts of Asia. In many cases, sites were selected where indigenous or spontaneous community forest management initiatives were present. There was a growing consensus that it was important to seek guidance from communities that were already pioneering methods to protect natural forests and that possessed systems for productive and sustainable resource utilization.

Over the next year, research teams spent months living in Asian forest communities, documenting local efforts to protect and manage forest lands. These studies illuminated sophisticated indigenous patterns of forest use and often-extensive knowledge of species composition and forest succession patterns. The research also indicated the extent to which rural people had been formally and legally marginalized in the management of state lands, as well as their desire to reestablish their authority over the resources upon which their survival depends.

Network members presented preliminary findings from their first round of research at the second gathering of the Asia Network, held in Ciloto, West Java, Indonesia, in April 1993. The studies dramatically illustrated the powers of ecological regeneration in even highly disturbed forests when under community protection, and extensive knowledge regarding natural forest manipulation to enhance productivity. However, the research also documented the rapid process of forest degradation occurring in many parts of Asia and the pressures breaking down community resource use institutions.

In August 1993 the Network Secretariat published the initial findings of the Thailand, Philippines, and Indonesia research teams in Network Reports 2, 3 and 4. (

FN 1) These reports formed the background documentation for the Policy Dialogue on Natural Regeneration and Community Protection, held in Honolulu in March 1994. Its objective was to bring donors and Asian policy makers together with the country working groups to review current experiences with community forest management and natural regeneration as a strategy for stabilizing the vast areas of degrading natural forests throughout Asia. During the meeting, each country team developed a strategic action plan to systematize and accelerate the devolution of authority to community groups as managers of public lands. In addition, the meeting provided an opportunity to chart future directions for the Network. Participants agreed that the Network should broaden its scope to respond to the needs of additional Asian nations. The Network Secretariat's mandate to facilitate exchanges and learning among Asian forest communities, national forest management agencies, planners and policy makers, NGOs, and donors was strongly reaffirmed. It was also agreed that in the future, additional emphasis should be placed on informing the wider public internationally regarding the inherent forces driving forest degradation and the exciting opportunities communities offer in stabilizing forest resources. Print, radio, and video media will be accessed in the future through the inclusion of environmental journalists, writers, and filmmakers in the broader Network (see Figure 1). The Network Secretariat hopes to continue to work closely with affiliated organizations including East-West Center, Center for International Forestry Research, World Resources Institute, Sustainable Development Institute, Biodiversity Conservation Network, Regional Community Forestry Training Center, and other organizations working on related issues.

Figure 1.
Asia Sustainable Forest Management Network
In the coming year the Network Secretariat hopes to help the Indian National Support Program for Joint Forest Management by assisting the country team to design and field-test rapid diagnostic mapping tools for delineating community forest management territories in five India states. Secretariat staff will also work with the newly established Vietnam country team in designing a research program in Cuc Phuong National Park and the upper Da River watershed. The fourth meeting of the Network will be held at Cuc Phuong in October 1994. A research design workshop will also be held with the new China research team in southern Yunnan Province in late 1994.
EXECUTIVE SUMMARY
The Proceedings of the Policy Dialogue on Natural Forest Regeneration and Community Management explore how the process of forest degradation in Asia can be reversed. Part I reviews the current conditions of forests in Thailand, the Philippines, Indonesia, and India, as presented by senior policy makers at the meeting. This section also summarizes panel discussions concerning experiences with natural regeneration and the roles communities are playing in forest protection. Part II describes preliminary strategic action plans formulated by each participating country team to accelerate community protection and management in their respective nations. The proceedings close with a review of strategies offered by donors to enhance their assistance programs for community forestry.
Throughout the Asia region, much of the natural forest lies in various ecological states of deterioration. Up to 50 percent of India's land area, or an estimated 175 million hectares, can be classified as "wastelands" Approximately 46 percent of Indonesia's vast forest lands have been degraded through logging, mining, migrant farming, and fires. Less than 3 percent of the Philippine's land area remains covered by relatively undisturbed natural forests. The situation is similar in other Asian countries. Given current economic and demographic pressures, further destruction will continue unabated unless strategic interventions are taken over the remaining course of this decade.
Meeting participants agreed that to stabilize Asia's critical uplands and forests, forest departments will need to forge alliances with local communities, empowering them to help manage these vulnerable resources. Once open-access public forests are protected under decentralized community controls, even much of the badly degraded forest will regenerate naturally through secondary succession. To enable this process, policy makers, donor organizations, NGOs, and researchers need to shift their priorities away from capital investments in plantation reforestation projects and "magic bullet" technologies. The focus must turn to the needs of growing local populations of disempowered forest and migrant communities. If resource conflicts are to be resolved and sustainable use practices established, these communities - which are important agents of forest degradation - need to be formally integrated into resource management policies and practices.
Growing evidence from Asia indicates that rural communities are not only capable of developing sustainable use systems in partnership with government, they are also increasingly demanding the authority to do so. The stakes are high, as these communities' survival is often dependent upon maintaining the natural resource base. Forest communities are making the most promising headway in protecting and rehabilitating forests where the political environment has supported village-level efforts (e.g., in eastern India and northern Thailand), creating a more favorable climate for community initiative. Extension of international and non-governmental support to upland forest and tribal communities can encourage them to take on management responsibility in exchange for secure usufruct rights that respond to their domestic needs. The development of new partnership alliances between communities and forest agencies is proving a win - win solution. Due to demographic and other sociopolitical realities, it is increasingly apparent that in Asia only resident communities are in the strategic position to reverse the trend of forest degradation and stabilize these declining ecosystems by establishing sustainable management regimes.